Subscribe to
Get More Customers to Complete the Sale
Melissa
Chelf
Chief Marketing Officer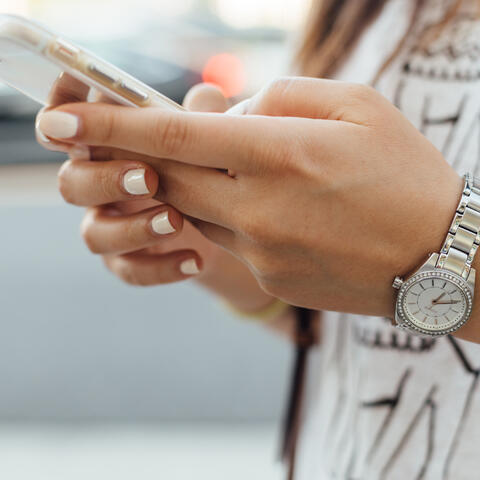 I remember the day not too long ago. I was paying pretty good attention to the lecture and taking some notes during the hour-long Buyer Behavior class when my professor introduced the concept of Cognitive Dissonance. It was as if the proverbial light bulb turned on.
Maybe not quite so dramatic, but the professor asked us to recall a time that we made a significant purchase and think about how we felt leading up to, during and after the purchase.  
Oh (sigh) those tan leather pants were such a stupid idea. It went like this:
Poor college student? Check.
Part-time job barely covering rent with just enough extra cash for the $5 wristband at the popular campus bar on Friday but going shopping anyway? You bet.
Do these pants make my butt look good? Why yes, I believe so.
Get in line, grasp credit card, prepare to pay…wait, what am I thinking? I shouldn't do this, can't do this, but it's all wrung up and she's looking at me expectantly and I'm beginning to think a tad judgmentally, ARGH, no!
Lightbulb: there's a name for that sequence of events.
Chances are that we've all experienced cognitive dissonance on some level during which we feel mental stress, guilt or discomfort during the process of making a purchase.  So how does it all relate to increasing conversions on your website?
This kind of situation is often what happens when your customer finds your product or service, becomes interested and reads more, clicks to place it in their shopping cart and then BAM! They close their browser and do not return.
It is a perfectly normal reaction when faced with parting from our hard earned cash. But we don't have to just accept abandoned shopping carts or a low conversion rate. Instead, it's time to start thinking about the objections that your customer might wrestle with in the purchasing funnel and get to work.
Minimizing objections isn't trickery or even an involved sales pitch. Instead, your goal is to be as clear and honest as possible about your product or service and begin setting expectations for your customer.
SET THE STAGE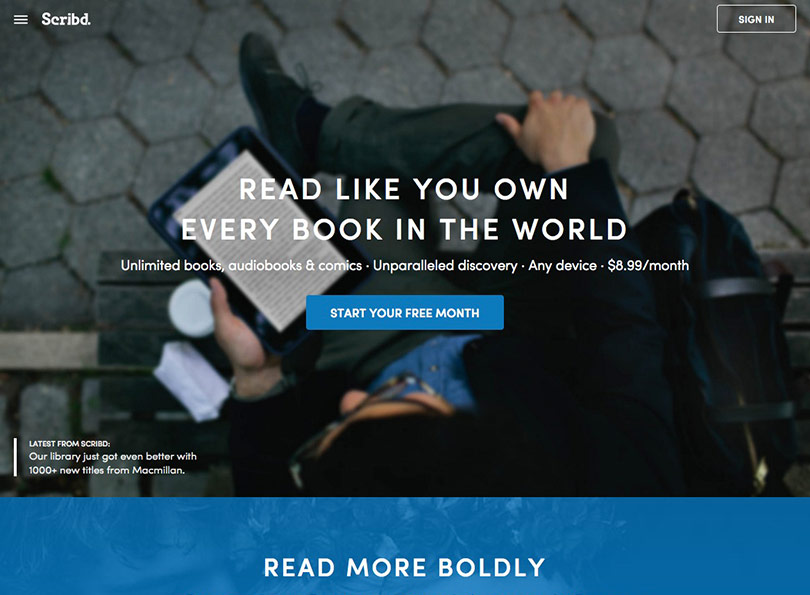 Scribd provides a great model for minimizing objections by setting clear expectations for accessing your favorite novel. The call-to-action boldly and brightly informs subscribers that they can try the service for free right now and they have one month to decide if they like it before they get charged a fee. It's clear in the sub-headline that $8.99/month is the cost after the free trial. It's also noted that a reader can use any device they prefer. The browsing customer knows instantly what to expect before they click through for the trial.
So how can you set the stage for a confidence-instilled transaction?
Be upfront about your offer. If you provide a free trial, introductory offer or any other kind of hook to get a potential customer interested, be sure to identify what exactly is free, what is not and when the customer can expect to get charged. Leave the sneaky stuff to subscription shoe salesmen. Your goal is to build trust with your customers so they return again and again.
OUTLINE ADDITIONAL CHARGES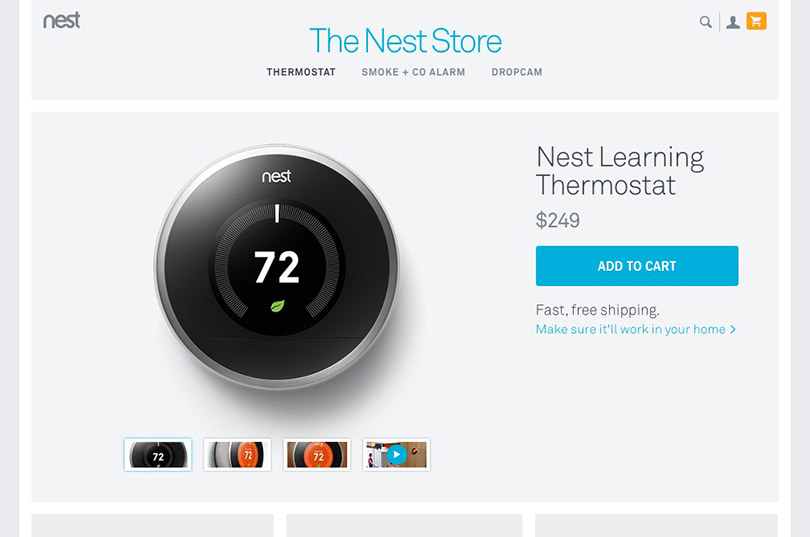 KISSmetrics posted an article depicting the #1 reason for shopping cart abandonment is due to unexpected shipping costs. Not that you must ship everything for free but instead providing clarity about expected additional charges, like shipping, before your customer enters credit card information helps complete the sale. Note how the Nest thermostat reinforces the customer's expectations by calling out free shipping before you click to add to cart and again under the checkout button. What's left is a confident feeling that there will be no surprises.
You have plenty of options for when and where to display additional fees, but by all means call out extra charges before checkout. Whether in the sub-headlines of a product listing such as Nest or by providing a shopping cart preview with a subtotal and fields for tax and shipping, your customers will appreciate the upfront honesty and will be less likely to ditch your goods.
ESTABLISH SECURITY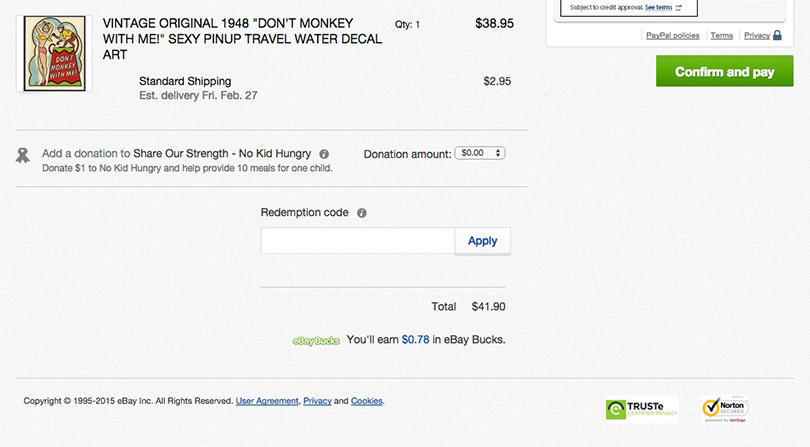 Security during online checkout is a big deal these days. Before a browsing lead converts to a paid customer, they must be willing to divulge private information such as their name and email, billing address and credit card information. Have you gained their trust? Or will they have second thoughts about your company right at the moment when they'll either become a customer or never visit your site again? The big ecommerce sites like Ebay have the confidence thing down to a science. Not only do they have the all-important https and badges of security like TRUSTe and Norton logos, but they also highlight their guarantee right where the shopper is going to look one last time as they make that final decision to buy. How could you not feel good about your purchase with all that confidence boosting?
If you provide a warranty or satisfaction guarantee, confirming it at checkout is a great way to help minimize objection to the sale at a pivotal moment. A lot of companies miss this opportunity to briefly (as in brief copy so as not to distract from the end goal) remind shoppers of the low risk of completing the sale.
Minimizing objections is one of several expert techniques to increasing conversions on your website. Make it clear and simple for your customer to proceed with confidence and enjoy watching sales go up.
Get More Customers to Complete the Sale